Let Mahira Khan show you how to rock urban desi glamour
Sure, Ayesha Omar and Sajal Aly have been killing it on the red carpet lately but if Pakistan has one fashion icon who almost never gets it wrong, it's Mahira Khan. And judging from her recent looks for Vernapromos, she clearly has no intention to be dethroned any time soon.
Granted, she's a little too safe for many when it comes to fashion but with time, Mahira has only become more confident and pushes the boundaries without compromising on her personal style ethos which is evidently keeping things casual and fuss-free.
While promoting her upcoming film Verna Mahira definitely seemed to favour sophisticated, urban desi looks over western wear. Gharara-saris, kurtas, and shalwar kameez reigned supreme.
We wondered, why did she ditch the dresses and gowns that most celebs opt for these days?
When asked whether wearing traditional clothes during Verna promos has been a deliberate decision, Mahira explains: "Not really. I just wear whatever I want to wear and I always have. I remember when I was promoting Ho Mann Jahaan, I dressed in a bohemian casual way for the promotions. For Bin Roye I had gone completely traditional."
"This time around, these were just the clothes that were arranged for me and I went on to wear them. Now, I have gotten some more wardrobe choices so I'll be delving into Western-wear."
While Mahira's urban-desi glamazon vibes may appear to be effortless, we gotta tell you, there ARE some style rules she seems to live by.
Let her show you the way:
1) She keeps accessories down to a bare minimum
Let these looks be proof that when you're sporting motifs on your kameez, you don't need any accessories.
2) When she rocks a peshwas, she fully commits to the desi vibe
You might be tempted to wear stilettos with your peshwas but Mahira knows better. There's no need to attempt 'fusion' with a graceful eastern outfit! Kolapuris and traditional jhumkas FTW.
3) She knows kurtas have to skim the body
Not too tight, not too loose — these kurtas are justttt right.
4) She's well aware that trendy details can elevate basic black
An all-black sari could look matronly and boring, but these tasseled sleeves totally make it modern. Add slick back hair, and voila! You've instantly achieved glamazon status.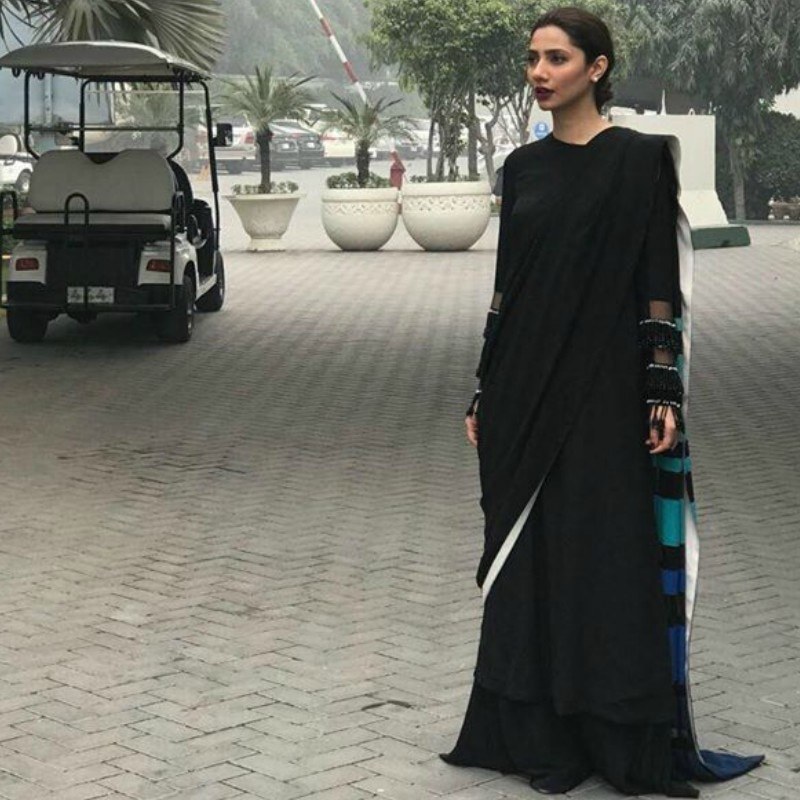 Similarly, she accessorized this pretty but basic Zara Shahjehan ensemble with eye-catching heels and statement earrings.
5) She loves ghararas and she loves saris. Why not fuse the two?
On the trailer launch, Mahira wore this gorgeous gharara sari by Maheen Khan. We're living for that subtle metallic finish; it gives the otherwise traditional feel of the ensemble a more edgy and fun vibe.
6) The shalwar is officially back and Mahira Khan knows it
They're not as basic as they used to be though; Mahira rocked a number of variations of the classic from tulip shalwars to a trouser shalwar with buttons on the bottom.
Who said you have to compromise on comfort to look on point?
7) She's not afraid to experiment with quirky prints
Loud prints can be tricky but with her hair in a loose bun coupled with khussas and Amrapali earrings, Mahira pulls off this Elan number with aplomb.
COURTESY BY: https://images.dawn